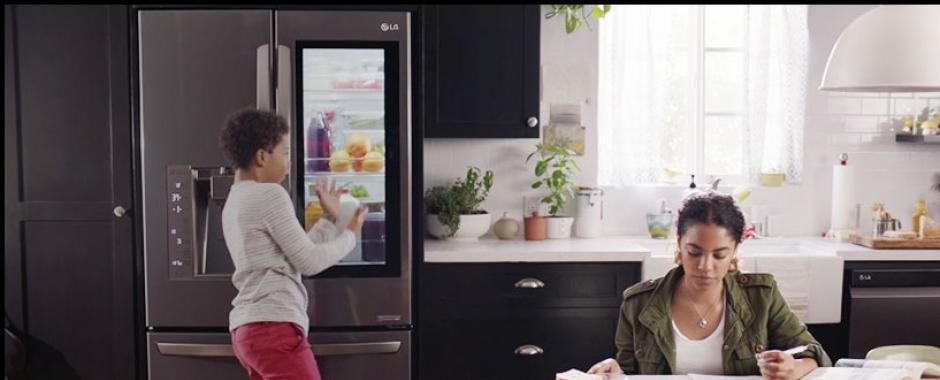 Knock Knock LG Instaview Refrigerator
Knock Knock LG InstaView Refrigerator
At St. Louis Appliance Outlet get incredibly low prices on fridges like this stunning new refrigerator, we call it the Knock Knock Refrigerator: the LG InstaView™ Door-in-Door® refrigerator. This amazing technology lets you get an inside look at your fridge without opening the doors! Just knock twice and the LG InstaView™ Door-in-Door® refrigerator will show you  what's inside—without opening the door and letting the cold air out.  This fridge also boasts convenience features like the CustomChill® Drawer, Slim SpacePlus® and more.
You can get this fridge cheap at St. Louis Appliance Outlet. This is one of the best reviewed refrigerators and you can get it direct from our nation-wide distribution center in St. Louis! Buy appliances direct and save, we are your local appliance discounter!
This high-tech fridge takes advantage of the features in the LG SmartThinQ™ app to control key features and get important notifications from anywhere. It even works with the Google Assistant as well as Amazon Alexa, so you can operate the fridges smart features with your voice.
Go ahead and touch this sleek black stainless steel refrigerator, it has a fingerprint & smudge resistant finish that easily wipes clean with a soft, dry cloth, so the only lasting impression is your impeccable taste. At last, the kitchen you can't wait to show off is the kitchen that handles real-life in style.
Ice makers are great, but not if it means you can't fit all of your food in the fridge. The Slim SpacePlus® Ice System provides more shelf space and allows even more space for door bins. Speaking of space, this French Door Refrigerator design with a bottom freezer drawer is wonderful for storage and organization. Adjustable shelves let you fit what you need to get at where you need it to be. The freezer drawer is a great design keeping the less-often used freezer section low out of your way so you have your main food storage up top where it is easy to get to.
Check out this video from LG to see the features of this amazing refrigerator and remember, you can buy it for less at St. Louis Appliance Outlet and the St. Louis Appliance Wholesalers warehouse!