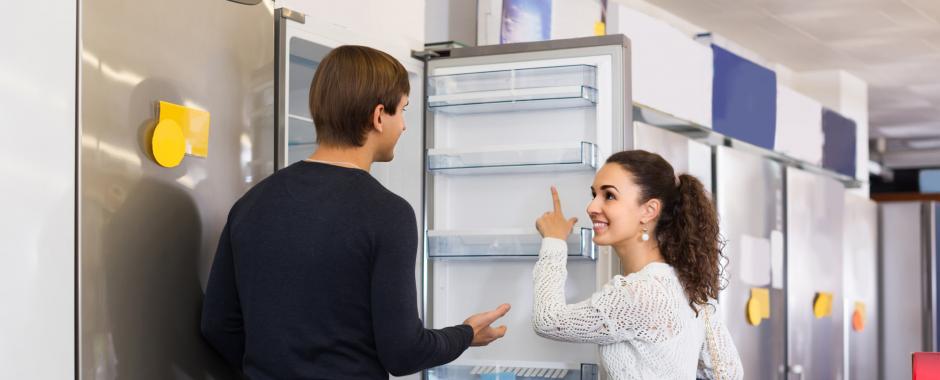 Why You Should Buy Appliances From an Appliance Outlet
Why You Should Buy Appliances From an Appliance Outlet
You can't put it off any longer. You need to update your appliances. And you're not sure where you should start your search to find appliances that will make your life easier.
An appliance outlet is the first and only place you need to go to find the best appliances.
Do you want to know why local appliance outlets will give you the best shopping experience? Keep reading to find out.
Browse High-Quality Appliances
Big stores like Lowes and Walmart have many different types of products in stock. They have to spread their resources thin. They don't have time to make sure they have the best kitchen or laundry appliances.
At an appliance outlet, there is only one product type. Local appliance outlets put all their energy into collecting only the best appliances. 
You will still be able to choose from many different appliances. Appliance outlets have a large selection of the quality appliances you need.
Browse the brands that interest you most. Find new options you would have never considered before entering the store. Ask staff members for their expert tips on finding the best appliances brands. 
You'll be able to explore a large selection. And you'll guarantee that your product is durable and functional.
Find Cost-Efficient Options
Buying appliances can get expensive fast. You want to stay within budget. And no matter what, you want to get the most for your money.
It's time to start comparing appliance costs. You only need to put your local appliance outlet's and chains stores' prices side by side.
Look at an appliance outlet's washing machine options. Compare them to a large company like Wayfair. You will find that their starting prices are very different.
Appliance outlets have more cost-efficient options than large chain stores. And that's before they discount their products.
Appliance outlets will offer you the best deals for their customers. You'll be able to get the appliance you need for the best price possible.
Always be on the lookout for sale opportunities. 
Be sure to consult staff to see if there are any appliance bundle options. And don't forget to look at scratch and dent appliances for an even better price.
Experience Expert Service
Whether for your kitchen or laundry room, finding the right appliance is challenging. There are many options with many features. Not to mention, you need to be able to find an appliance that will fit the space in your home. 
In a big chain store, you won't be able to find much guidance. Staff members have to help with other departments. And the staff in appliances may only have minimal knowledge of the things you'll want to know.
In an appliance outlet, the staff will be able to assist you. Appliance outlet staff are capable of giving you the expert help you need.
You only need to tell staff what you want from your appliances. They'll take care of the rest.
A qualified staff member will give you the rundown of every feature. You'll leave with a clear understanding of what your perfect appliance needs to have.
You'll also be able to get advice on what size appliance you should buy. Make sure to measure out the space your old appliances were using. Approach the staff member with these measurements to find the perfect replacement.
After shopping at an appliance outlet, you'll know the ins and outs of all appliance features.
Keep Your Appliances Running
Appliances are an essential part of day-to-day life. They experience more wear and tear than any other object in your home. Accidents happen and you need help fixing home appliances.
Big companies do offer this service. But only appliance outlets will give you the best experience. Buying from an appliance outlet means you'll get the maintenance you need.
If you are having issues with appliances, you only need to call or come in person. Your appliance outlet will fix any problem at the best price.
With appliance outlet repair, you'll be able to save money. When your appliance breaks, they'll fix it. You won't have to buy a new one.
If your appliance is beyond repair, there's no need to worry. Your appliance outlet will make sure to help you find an excellent replacement.
Choose Help With Delivery and Installation
This is another service offered by big names that local appliance outlets excel at.
Appliance installation is easier than ever. Make sure to shop at an appliance outlet for the most stress-free experience.
Let a team of professionals install your appliance the right way. With your local appliance outlet's help, you'll have the job done well. And you'll have the job done fast.
You don't want to risk installing your appliance if you aren't familiar with the process. You could damage your house and your appliance. Go to your appliance outlet for the best results and the best service.
Your local appliance outlet's team will do more than install your appliance the right way. They will also deliver your appliance to your doorstep.
You need to avoid the hassle of bringing your appliance home. Don't risk hurting yourself, your vehicle, and your appliance. Let the professionals deliver your new dryer or refrigerator to you. 
You can even get same-day delivery. Quick delivery times are only one of the perks provided by local appliance outlets.
Go to Your Appliance Outlet Today
If you need a durable appliance and fast, go to your nearest appliance outlet. You'll find the best appliances to suit your home's needs. With its quality options, you won't have to replace your new appliance for a long time.
Are you ready to buy the more than just appliance? Look at our special buys and make sure to visit us for the greatest appliances and the greatest service.